Formed in 2016, TRIPLE DOG DARE is a Twin Cities, MN based band playing an expansive mix of high energy pop, rock, dance and country tunes.  They will keep you moving from the first set, right up until closing time.   Come on out for a good time.....we Triple Dog Dare you!
Triple Dog Dare is:
Greg - Guitar & Vocals 
Pat - Lead Vocals
Alan "The Silver Fox" - Drums & Vocals
Sully - Bass & Vocals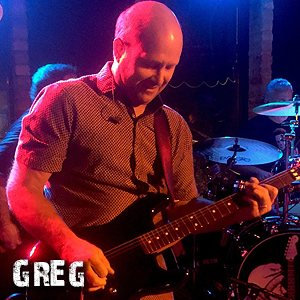 About Greg:
Greg hails from La Crosse, WI and has played in bands throughout high school and in the Chicagoland area before relocating to the Twin Cities for his day job in the early 2000's.  After moving here, he started the bands Four Story Drop and Full Circle, both of which were with our drummer Alan and were regularly gigging around the metro and beyond.  After taking a bit of a hiatus from the band scene, he eventually met Pat and started Triple Dog Dare.
When he's not playing guitar or working, you can find him on the St. Croix River boating, skiing, biking and spending time with family and friends!!

Gear: Too much to list out here….yep, he's an admitted guitar geek with a gear addiction and is constantly acquiring/changing out guitars, amps, etc.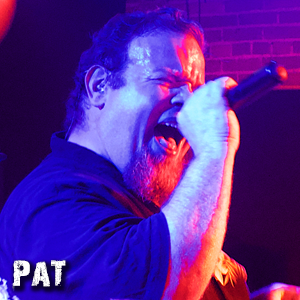 About Pat:
Growing up outside Boston, Pat was a musical late bloomer, picking up a bass at 19 and discovering an aptitude for the instrument.  After auditioning for the musical "Damn Yankees" and landing a role, he discovered his singing voice as well, and later joined such groups as Moneypenny, One Short and BlackAcre, sometimes as a bassist, sometimes as a vocalist, sometimes as both, and developed his skills over many gigs. 
After moving to the Twin Cities in 2003, he'd given up on playing music until he and a buddy founded the band Whiskey Tango Foxtrot in early 2010, with Pat on bass and lead vox. In 2016, Pat set out to scratch his eternal cover band itch, hooked up with Greg, formed what is now Triple Dog Dare, and the rest is history. 
He might not be your textbook frontman, but he'll surprise you with his versatile vocal range and fearless ability to work the crowd.  Judge this book by its cover at your own peril. 
Pat is a lover of wiffle ball, bowling, camping, non-alcoholic beer, jam bands, funk music, bonfires on his patio, and is a huge Patriots and Red Sox fan.  (He is a Masshole, after all.)  He's also the co-host of the Discovering The MCU Podcast (for you Marvel Movie nerds out there!)
Gear:  Shure wireless mic system, Gatorade, Voltaren, and a sh*t-ton of confidence.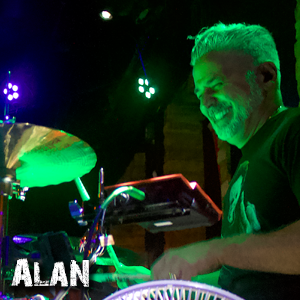 About The Silver Fox:
A Caffeine dependent life-form.  Born at a very young age.  When I was born I was so surprised, I didn't talk for like a year and a half.  My hobbies are breakfast, lunch, and dinner.  I'm so good at sleeping; I can do it with my eyes closed.  The only thing stopping me from being trash is my lack of motivation.  
A computer once beat me at chess, but it was no match for me at kick boxing.  I say no to alcohol daily, it just doesn't listen.  Where there's a will, I want to be in it.  Since light travels faster than sound, I appear bright until you hear me speak.
I'm also lazy.  I stole these from random peoples' Instagram bios.  Seriously.  I never finish anythin
Gear: Drums, Cymbals, Sticks, pedals, Red Bull, Ibuprofen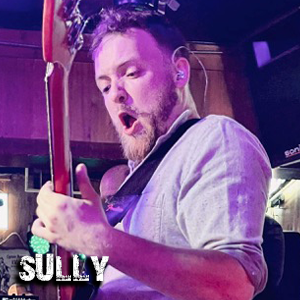 About Sully:
Sully hails from the boonies of western Massachusetts, a land where mountains and Walmart reign supreme. He made his escape in 2015 and has been a Twin Cities citizen ever since. 
He began his music career on his 13th birthday when he got his first guitar. He played in a lot of bands of many genres before getting the hell out of Massachusetts. Since relocating, he formed and played with Sullivan Fox with the incredibly talented Angela Fox, and currently plays with Minneapolis-based indie band Mineral Man. 
Sully is branching out of his comfort zone and taking up the bass role for Triple Dog Dare. With years of live shows under his belt, he will be an energetic presence on stage looking to inject even more fun into the Triple Dog Dare experience! 
Outside of music, when time allows, Sully enjoys playing wiffleball, fishing, camping, reading, and laying around playing video games. 
Gear: Thick strings, calloused fingers, and a little Miller Lite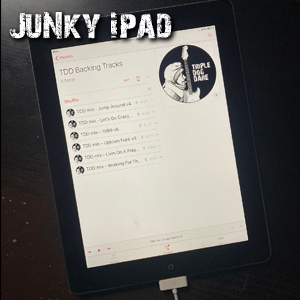 About Junky:
A Gen 2 iPad who's self described as an "old soul", Junky was acquired in a gear swap and forced into service when the band's post-COVID iteration left them without a keyboard player.
Junky adds a fun layer of synths and percussion for when we want that extra layer of authenticity that certain songs really gotta have, and scoffs at those of you who hate self-checkouts. "Machines are people, too," Junky once told us after we dropped him loading out after a show.
Used sparingly, Junky enjoys being touched by Pat, who sometimes lets him off the leash a bit too long...
Junky's an invaluable tool and the unpaid and underappreciated 5th member of TDD.